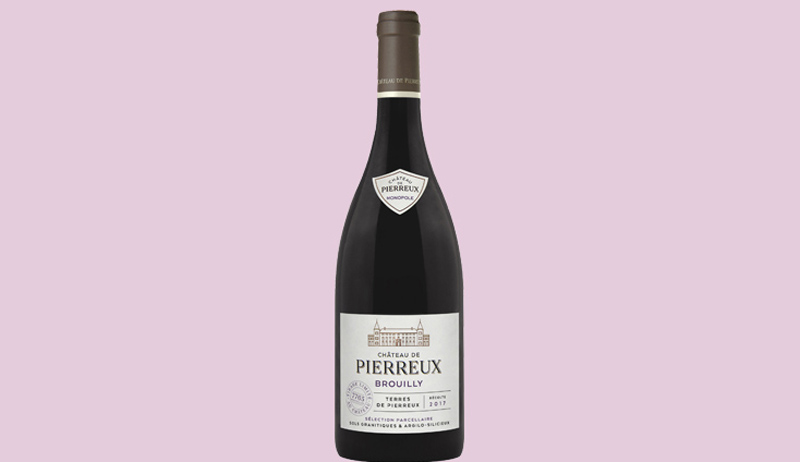 BROUILLY AT THE TOP
Château de Pierreux | March, 15th 2019
---
The Château de Pierreux has put its flagship wine, the Brouilly Réserve du Château 2017, in magnums. This is the ideal size for sharing, as well as for ageing, bringing out the full potential of the Gamay. The estate's 103 hectares spread over 110 plots give great diversity of terroir, including pink granite, schist, flint, and blue porphyry. Shallow, well-drained soils allow several quite different cuvées to be produced. While Gamay is the dominant grape, some young Chardonnay vines provide a fresh expression in white wine.

Today, the estate offers a range of four wines:

La Réserve du Château: The flagship cuvée, embodying the Château's signature aromatic, smooth style.

La Grande Réserve: Produced in small quantities in the best years from selected older vines, it is aged in oak for eight to 10 months, giving it an intense personality.

Terres de Pierreux: A selection from two plots, strict manual sorting, long maceration, pumped over just once, followed by nine months' ageing in wooden vats results in a purebred finesse and a lovely minerality for this elite wine.

Chardonnay: The white version of the estate's noble lineage.


Brouilly Réserve du Château 2017 in magnums

In 2017, the fruit was superbly aromatic, promising rounded wine with good body, underlined by precise vinification: Destalking, slow fermentation at 22-28°C, daily pumping over, maceration for 12 to 15 days according to the plot, and rack-and-return. The traditional ageing in oak vats, which is now rare, lasted for seven months, providing structure and softening the tannins.

With a deep garnet color, it has aromas of dark berries, and is full and flavorsome in the mouth with a smooth texture over distinct yet soft tannins. The mineral touch reveals the soul of Pierreux.

This splendid magnum will be showcased at the Beaujonomie dinners at the Château on the weekend of 8 and 9 June 2019.