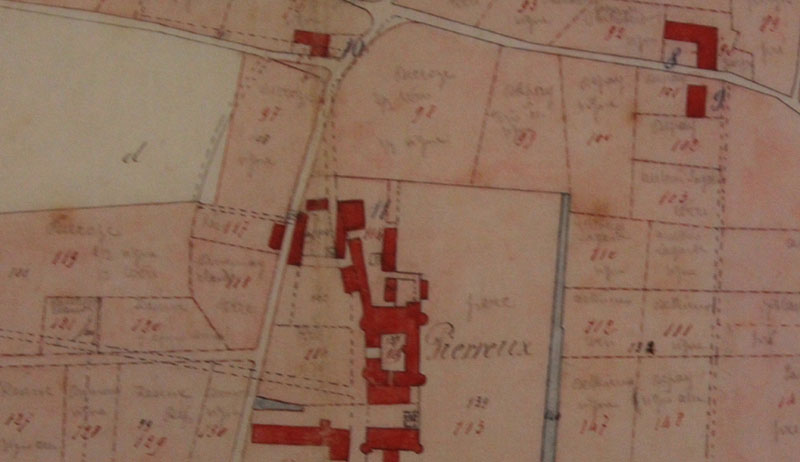 A NEW CUVÉE FROM SELECTED PLOTS
Selected plots | Harvest | 2018
---
This divinely elegant wine is only produced in small quantities (8,000 bottles for the first edition), and is a blend from two plots that are remarkable for their granite and clay-flint soil and their old vines. Their tight, concentrated bunches were destalked before long maceration followed by ageing in oak casks to give polish to this wine with its aromas of wild rose and spices. Its silky tannins provide exquisite length to Terres de Pierreux, the expression of multiple terroirs.
The first of the two plots is the Mas Vincent, 0.8 hectares planted in 1951 and 1972 at a density of 10,000 vines/ha in deep broken granite soil on a southeast-facing plateau. Harvested on 12 September, the grapes underwent strict manual sorting and were entirely destalked but not crushed, then transferred by gravity into vats before maceration for 17 days with 10 minutes of pumping over per day. The fruit offered great potential, and the aim was to not over-extract, but to capture its purebred elegance. No rough pushing down of the caps here, but instead, the wine underwent rack-and-return three times at the end of maceration. Then came nine months in oak vats.
The other plot called Garanche features 40-year-old vines covering 1.5 hectares, planted in 1978 at a density of 9,000 vines/ha on flinty soils of varying depths on a plateau facing northeast. Harvested the same day, it was vinified along the same lines, with one extra day of maceration. The two cuvées were then blended and lightly filtered before bottling on 6 July 2018.
The wine has a bright ruby color, with wild rose and spices on the nose and lovely minerality. It is amazingly subtle in the mouth, with distinct yet soft tannins, and retro-olfaction evoking wild strawberries and white pepper, with intense and persistent aromas. A truly exceptional Brouilly!